Announcements and Upcoming Events
September
Thursday, 22 – Parent information meeting, 5:30-8 pm
Tuesday, 20 – PTO meeting on Harvest Fest 6:00-7:30 pm  – Watch for more information coming from PTO
Thursday, 29 – Parent information meeting 5:30-8 pm
October
Thursday, 6 – Parent information meeting, 5:30-8 pm
Thursday, 13 – Parent information meeting, 5:30-8 pm
Friday, 14 – Harvest Fest 5:30-8:30 pm    – Watch for more information coming from PTO
Check out our yearlong fundraising opportunities! You can order coffee or spirit wear anytime of the year and Adams PTO gets credit. Check out the Fundraising link for more information.
---

This summer, BIPOC Site Council along with PTO, sponsored eight students to participate in the Mathnasium program. These are the results of that program. Six of the students have completed the program with increases in their math skills. The other two students are still finishing the program.
Este verano, el consejo BIPOC junto con el PTO, patrocinaron ocho estudiantes para participar en el programa Mathnasium. Estos son los resultados del programa. Seis de los estudiantes han completado el programa con un incremento en sus habilidades matemáticas. Los otros dos estudiantes están todavía finalizando el programa.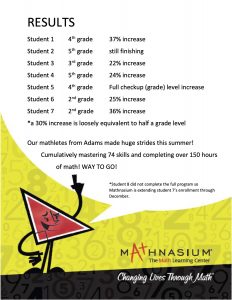 ---

Pre-K, Kinder, and 1st Grade Playdate, Sunday, August 29th, 3:00-5:00PM, Adams Spanish Immersion Elementary Playground, 615 Chatsworth St. Please join other families to make new friends and visit the playground before the school year begins. Contact PTO Chair Holly Moser with questions, info@adamspto.org.
More meetings and event announcements for the 2021-2022 school year coming soon!

---

If you ordered a school supply kit last spring, it should have arrived at your house/apartment, and your teacher will provide instructions about how to bring it to Adams. If you did not order a kit, you can find the school supply shopping list by grade level HERE. If you have questions about your school supply kit, please contact info@adamspto.org.

---

Shop our School Store for Adams Merch for the whole family! A portion of your purchase benefits Adams PTO.
https://escuelaadams.threadless.com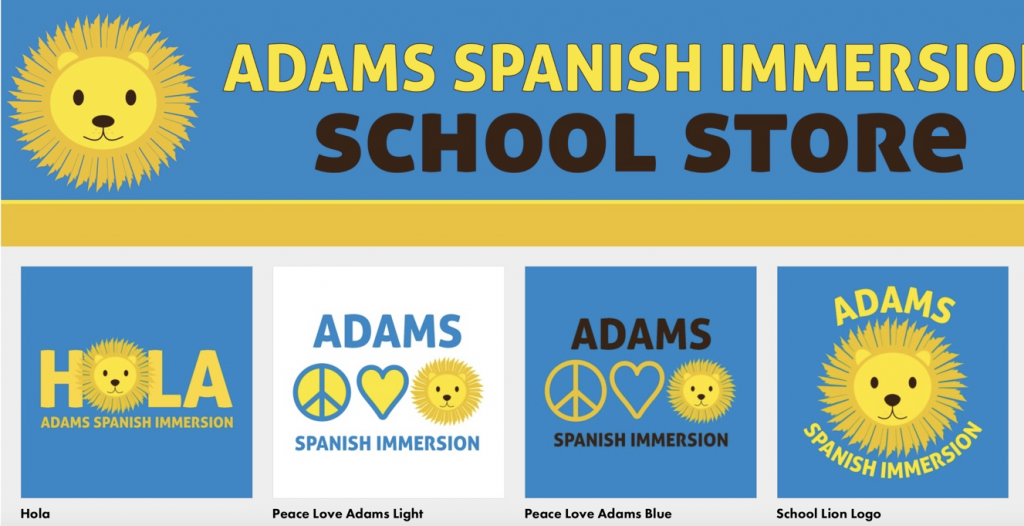 ---

Do you love great coffee? You can support Adams PTO and your caffeine addiction at the same time! Adams has a wonderful partnership with Velasquez Family Coffee, a family-owned coffee farm in Honduras. Visit our fundraising page for more information about how to have this delicious coffee delivered directly to your house/apartment.